A few weeks ago, a University of Chicago undergraduate student launched
UChicagoHookups.com,
which allowed classmates to plan a casual sexual encounter online. After
attracting national
and
international
attention, the site is now expanding.
According to the site, which is now called
EduHookups.com
, the media attention to UChicagoHookups piqued the interest of other colleges. So, the URL was changed and the site now welcomes Northwestern University and Columbia College Chicago students to the "no strings attached" social network. The site will also be open to Brown University students starting April 4.
The site is similar to the "Casual Encounters" section of Craigslist, but users must have an "edu" email address to register. The updated site allows users to post and browse listings for casual encounters, serious relationships and platonic friendships.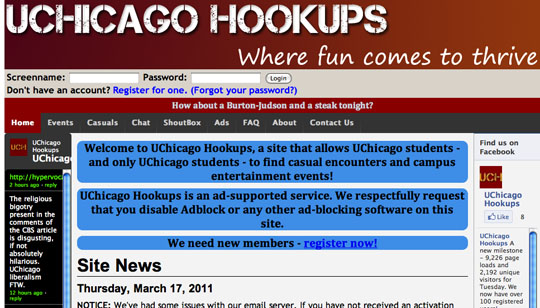 The site's creator said they saw a boost in traffic following news coverage of UChicagoHookups last week. More than 300 people have registered, and more than 1,300 private messages have been sent since.
Source
I'm not even going to say anything. I mean, what can i say?